Trying to figure out how to fish in Coral Island? You're not alone. We'll outline the process and offer some tips and tricks of our own to help you become a master class fisherman in no time.
Coral Island features a handful of pastimes to keep you busy during your time in the tropics. This includes fishing, which is both lucrative and beneficial to the town. You can start fishing from early on in your playthrough. However, this practice can be exceptionally difficult to master. This is because reeling in fish will require you to essentially play tug-of-war with whatever you've hooked. If you do manage to reel in your catch, you can then decide to either keep or donate the fish to the museum. Regardless, you'll want to catch as many different species as you can. Here's how to fish in Coral Island.
Sale
MageGee Portable 60% Mechanical Gaming Keyboard, MK-Box LED Backlit Compact 68 Keys Mini Wired Office Keyboard with Red Switch for Windows Laptop PC Mac – Black/Grey
Mini portable 60% compact layout: MK-Box is a 68 keys mechanical keyboard have cute small size, separate arrow keys and all your F-keys you need, can use it for gaming or work while saving space.
Mechanical red switch: characterized for being linear and smoother, slight key sound has no paragraph sense with minimal resistance, but fast action without a tactile bump feel which makes it easier to tap the keyboard.
Classic charming blue LED backlit: Customize multiple illuminated LED light effects, supports about 15 backlight modes, press Fn + Ins can control it, FN + ←/→ control backlight speed, FN + ↑/↓ control backlight brightness.
Full anti-ghosting keyboard: all 68 keys are no conflict, black grey red mash up design, ergonomic suspension double-color injection keycap, double kickstand feet adjustable typing angle and detachable usb cable, both practical and beautiful.
Extensive compatibility: MageGee MK-Box mechanical keyboards use USB 2.0 connector making it compatible with Windows (2000, XP, ME, Vista, 7, 8), Linux and Mac, plug and play, no drivers or software required.
How to Catch Fish in Coral Island
To start fishing in Coral Island, you'll first need to get your hands on a pole. Fortunately, you'll receive this item as a welcome gift from Sunny and Eleanor after a few days on the island. With the proper equipment, just head over to the nearest river, pond, or ocean inlet and cast your line with the action input. Here's a look at the controls across platforms:
| | |
| --- | --- |
| PC | Tap Left mouse button to cast, hold Left mouse button to reel in |
| PS5 | Tap Square to cast, hold Square to reel in |
| Xbox Series X|S | Tap X to cast, hold X to reel in |
With your line at the ready, you'll have to wait for a fish to bite. It should only take a short moment for a fish to appear and approach the line. When it bites, you'll be instructed to start reeling it in. This utilizes the same input, but requires a continuous press until the corresponding meter is filled. However, there's an additional trick to successfully reel in your catch.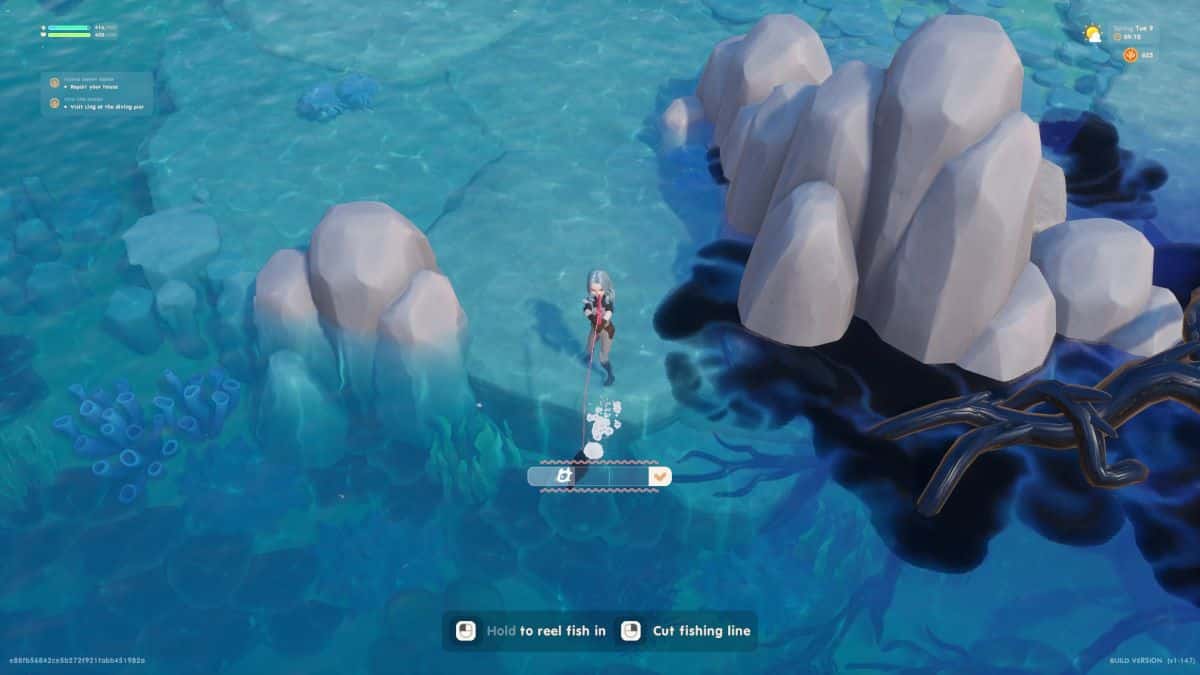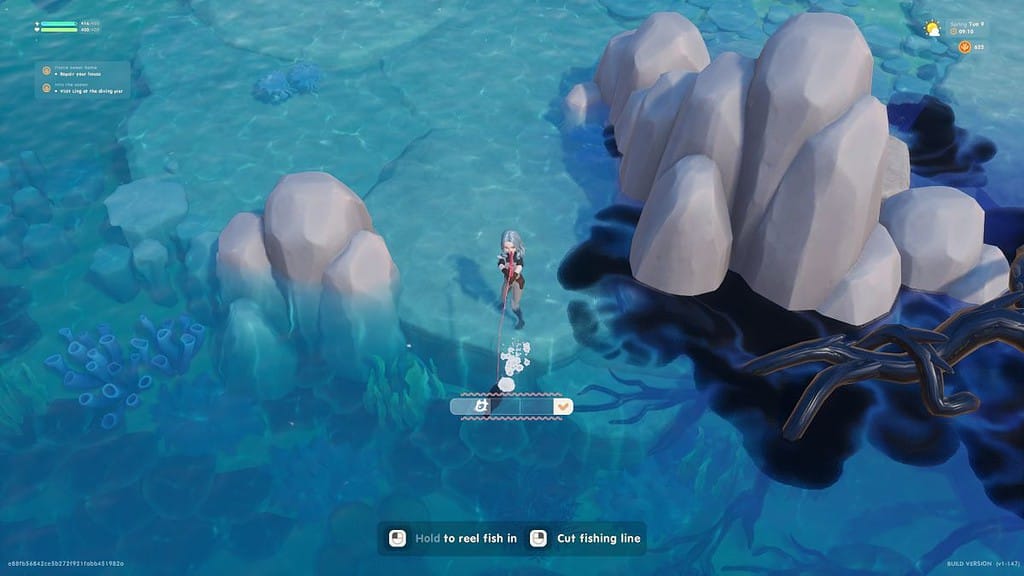 When a fish begins to tug on your line, you'll see zigzag lines appear above and below the meter, as pictured. If these reach either end of the meter, then the fish will break free from the line. The trick to a successful catch is to release the control when the zigzag lines near the edges of the meter. Once they dissipate a bit, start reeling in again. You'll need to repeat this tactic a few times to successfully catch a fish.
Trash or Fish – How to Spot the Difference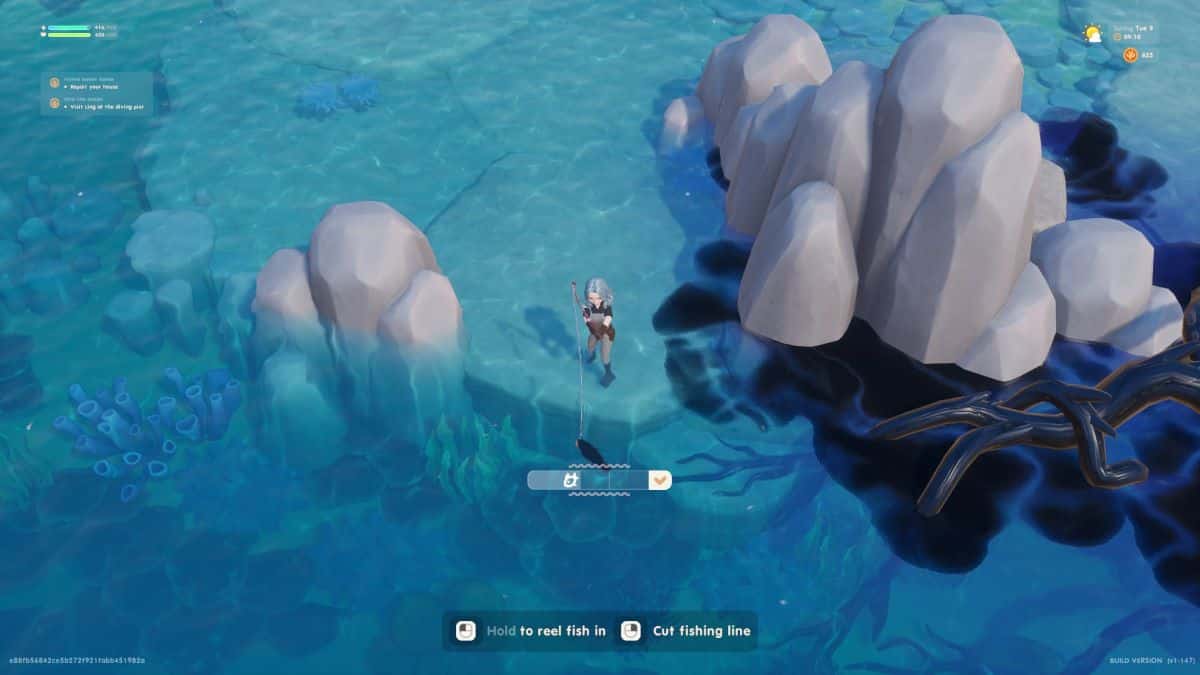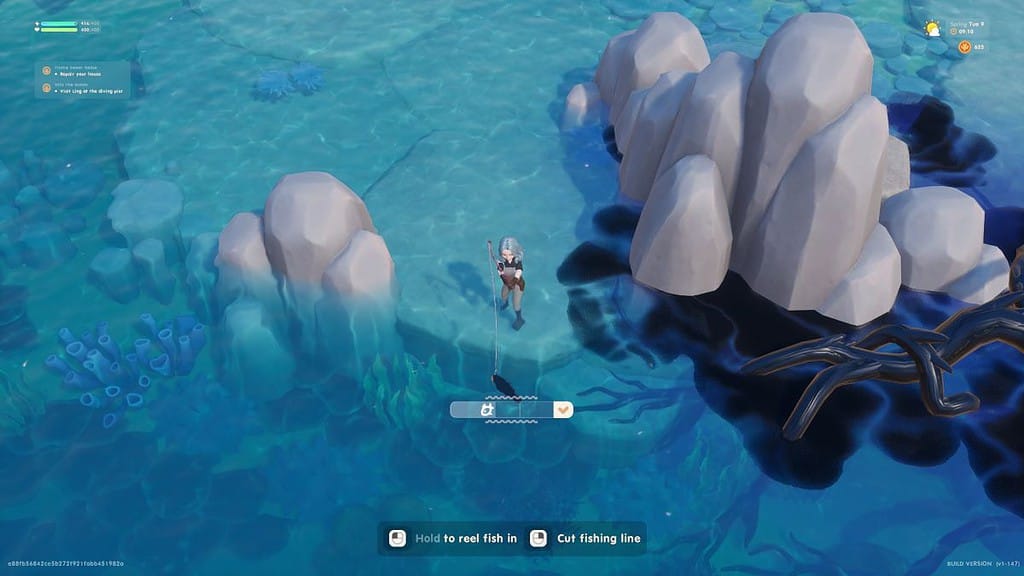 It's relatively easy to tell whether you're reeling in a fish or trash in Coral Island. When your target takes hold of the line, a meter will appear. While all types of fish will begin to struggle at some point, causing zigzag lines to pop up on the meter, trash and other items can be smoothly reeled in with a single long press, as pictured above. If you want to avoid collecting trash, you can choose the Cut Fishing Line directive.
For more on Coral Island, check out these additional guides from our team: