PUBG Mobile is a wildly popular battle royale game that drops 100 players onto an ever-shrinking map, challenging them to scavenge for weapons, gear, and supplies to be the last person standing. The game offers an immersive, high-quality visual experience with realistic gameplay mechanics.
Players can use Pubg mobile redeem codes to obtain various in-game rewards such as free UC (Unknown Cash), outfits, gun skins, and other exclusive items. These rewards not only enhance the game's visual appeal but can also provide a competitive edge in battles. Feel free to use Pubg redeem codes to get a legendary outfit, profile icons, legendary items, and more.
All PUBG Mobile Codes List
Updated August 10, 2023

Checked codes.
PUBG Mobile Codes (Working)
Here are all working codes for PUBG Mobile.
CLHFZFZ7VE – Redeem code 20 Challenge Points
CLPOZFZ56S – Redeem code 20 Challenge Points
CLPOZEZVEG – Redeem code 20 Challenge Points
CLPOZDZ6PP – Redeem code 20 Challenge Points
CLPOZCZTVW – Redeem code 20 Challenge Points
CLPOZBZ6JE – Redeem code 20 Challenge Points
HealthAndHappines – Redeem code for rewards
HappyGoldenMoon – Redeem code for rewards
RollingInMoney – Redeem code for rewards
PUBG Mobile Codes (Expired)
Here are all expired codes for PUBG Mobile.
BAPPZBZXF8
PUBGMSANSLI
WINTERHOLIDAY
20230321
EBGURMTDOKS
DKJU8LMBPY
UCBYSD800
DKJU10GTDSM
WINTERCARNIVAL15
99GLVNTDFA
E4ERQA3QF6
R3HABPUBGM
BBKTZEZET3
CRCLFLV1RWS
PUBGMOBILENP
BAPPZEZMTB
GPHZDBTFZM24U
UKUZBZGWF
BNBEZBZECU
150NEWUPDATE
BPRNZBNZH7B
BPHEZDZV9G
BMTBZBZ4ET
BMTEZBZPPC
BMTFZBZQNC
BMTDZBZPRD
BMTGZBZBKQ
BMTCZBZMFS
EGOISTPATIEID
DOCHEID
MEZARCIEID
BRAEID
LEVKIN1QPCZ
VETREL2IMHX
ZADROT5QLHP
SIWEST4YLXR
BDFVZBIZ7KN
BDFVZVZHAPU
BDFVZHZK3MU
BDFVZBGZ5B8
PUBGMOBILEBD
BOBR3IBMT
VEZIRBEYEID
BMTJZDZPPK
BARISGEID
PUBGMINRAMADAN
CHICKENIFTAR
LUCKY
RAMADANKAREEM
HEALTH
HAPPINESS
PEACE
BEAUTY
RAMADANMUBARAK
HAPPYRAMADAN
R3HABPUBGM
PUBGMGUARNIZO
POW3RBANG
ROL3X
M3DALCORE
PUBGMTHE7WG
DABPLAYS
PUBGMPANDA3
PICKLESGGS
SURFNBOY
F3ITZ
PUBGMWPGN
S3VOU
L3VINHO
GPHZDBTFZ
BBKVZBZ6FW
UKUZBZGWF
KARZBZYTR
QEJZLCIZ5M4
BBVNZBZ4M9
R89FPLM9S
EKJONARKJO
UCBYSD600
MIDASBUY
TIFZBIZACZG
TIFZBJZWMN
BBKTZEZET3
GOODMORNING
SD16Z66XHH
More N4G Unlocked: Call of Duty Mobile Codes
PUBG Mobile FAQ
Here is everything to know about PUBG Mobile.
What Are PUBG Mobile Codes?
PUBG Mobile codes are unique combinations of letters and numbers released by the game developers. These codes grant players in-game items, currency, or exclusive cosmetics to enhance their gaming experience.
How To Redeem PUBG Mobile Codes
Follow the steps below to redeem codes in PUBG Mobile: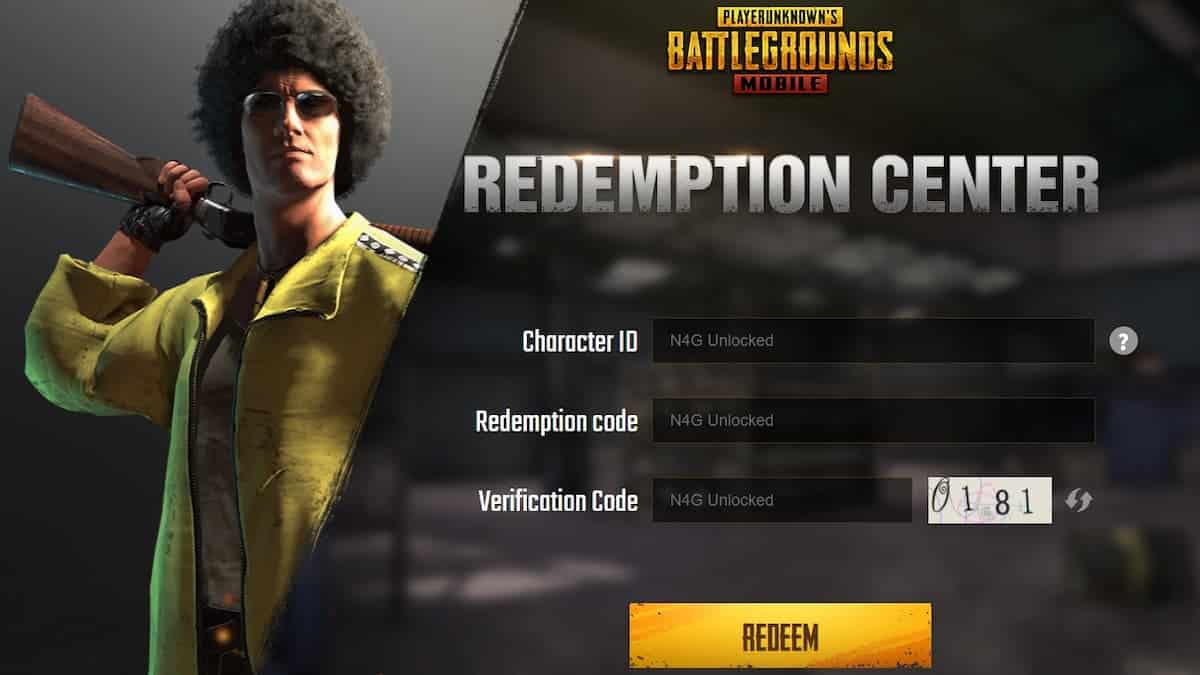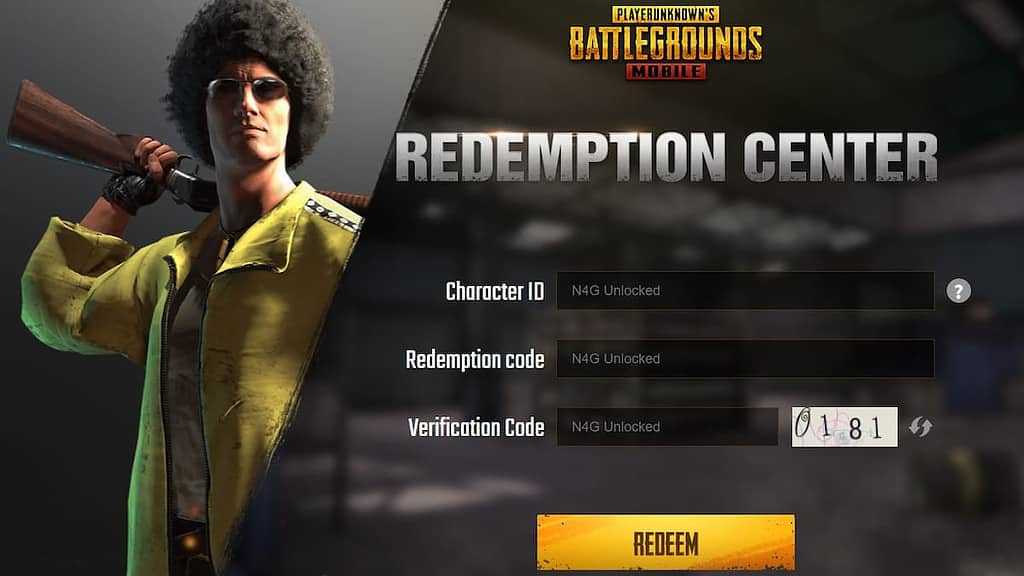 Visit the official PUBG Mobile Redemption Center website.
Enter your in-game character ID.
Input the code into the Redemption Code field.
Complete the captcha, and click the Redeem button to claim your reward.
Why Do PUBG Mobile Codes Say "Invalid Code"?
An Invalid Code message may occur for various reasons, such as the code being expired, entered incorrectly, or specific to a certain platform or region. Always double-check the code and ensure it is still active before attempting to redeem it.
How To Get More PUBG Mobile Codes?
To stay updated on the latest PUBG Mobile codes, follow the game developers on social media platforms like Twitter and Facebook. You can also join the game's official Discord server and community forums to receive code updates.
Are There Any Requirements To Redeem PUBG Mobile Codes?
There are no specific requirements to redeem PUBG Mobile codes. Players of any level can redeem them. However, some codes may be limited to specific regions, platforms, or account types. You will need a profile, which has a username and icon, and may need to submit a verification code.
What Is PUBG Mobile?
PUBG Mobile is a mobile adaptation of the highly popular PlayerUnknown's Battlegrounds game. It is a battle royale game where 100 players compete against each other to be the last person standing. With realistic graphics and gameplay, the mobile game PUBG Mobile has captivated millions of players worldwide.
Complete daily missions, collect stream points, get free silver fragments, and unlock cool skins like the jester hero headgear, white rabbit set, motorcyle skin, scar-i gun skin, ump-45 gun skin, and other cool unlocks. You can take advantage of the free royal pass during limited events and check your in-game mail often for rewards.
How Often Does PUBG Mobile Update?
PUBG Mobile receives regular updates, which include new content, features, events, and bug fixes. Major updates typically occur every few months, with smaller patches and hotfixes rolled out as needed to address any issues or balance changes. This may depend on Tencent Games, but check out the YouTube channel for updates, free codes, achievements, and more.