Looking for free Tower Brawl codes to redeem? Look no further, you've come to the right place.
Tower Brawl is a real-time strategy tower defense game that pits players against each other in fast-paced battles. The game features various tower types, units, and abilities that players can use to outsmart their opponents. One of the ways players can get ahead is by redeeming Tower Brawl codes for free rewards on Android and iOS.
Tower Brawl codes can give players a variety of rewards and gifts, including coins, gems, and new towers. These rewards can help players upgrade their towers and units, making them more powerful in battles. Some codes may also give players access to special events or exclusive items. Those who redeem codes can get ahead quickly.
All Tower Brawl Codes List
Updated September 5th, 2023

Checked codes
Tower Brawl Codes (Working)
Here are all the working Tower Brawl codes:
777777 — Redeem this code for 1,800 Diamonds
aftb7sv — Redeem this code for 1,800 Diamonds
HAFTB7 — Redeem this code for 1,800 Diamonds
facebook777 — Redeem this code for 1,000 Gold, 100 Diamonds
facebook — Redeem this code for 100 Diamonds
tb7777 — Redeem this code for 1,800 Diamonds
welcome — Redeem this code for 4x Wind Archer Hero, 10x Oracle Hero, 1x Witch Doctor Hero
z0yja1vu — Redeem this code for 1,000 Gold, 200 Diamonds
Tower Brawl Codes (Expired)
Here are all expired Tower Brawl codes:
5hdh9tar
dgh4puxp
stmgmb4c
15c2br1h
z6tj6a9j
zuh0bazr
2k9bgsnh
i8d843f4
lkrgg991
4h7wcri4
g5dntp7q
k69jqgo6
6lvqavd9
zczi130e
e0orib23
2qcgnyez
More N4G Unlocked: Street Fighter Duel Codes
Tower Brawl Codes Frequently Asked Questions
Here is everything to know about Tower Brawl codes.
How To Redeem Tower Brawl Codes
Follow the steps below to redeem Tower Brawl codes.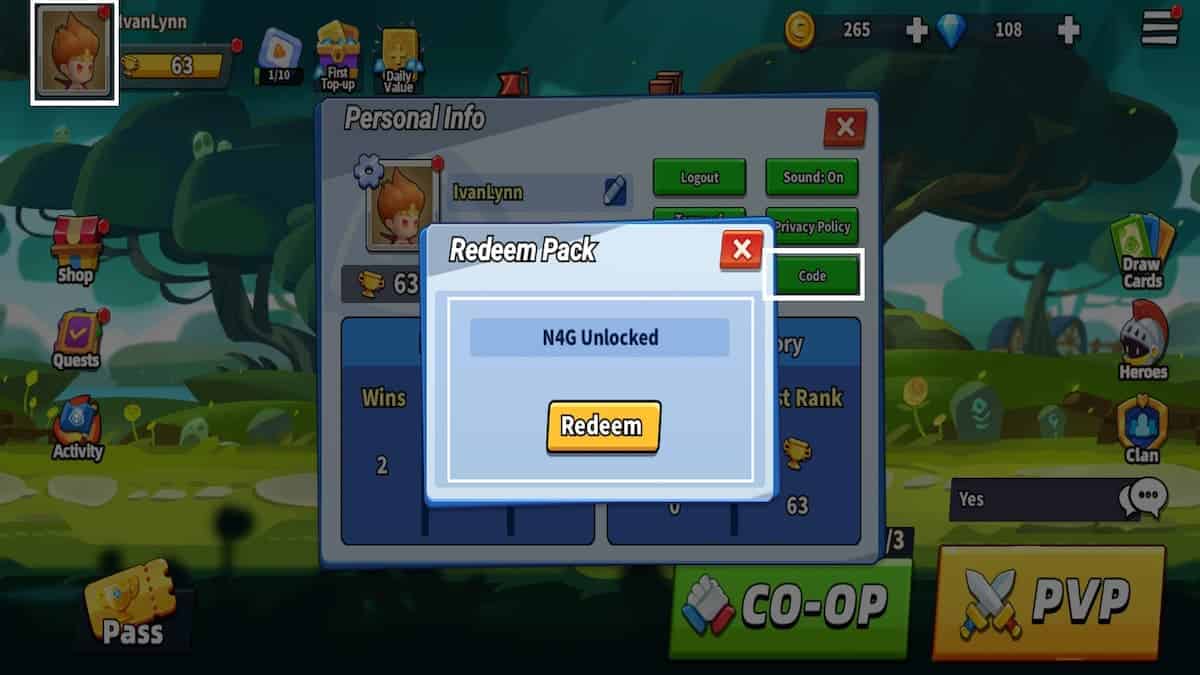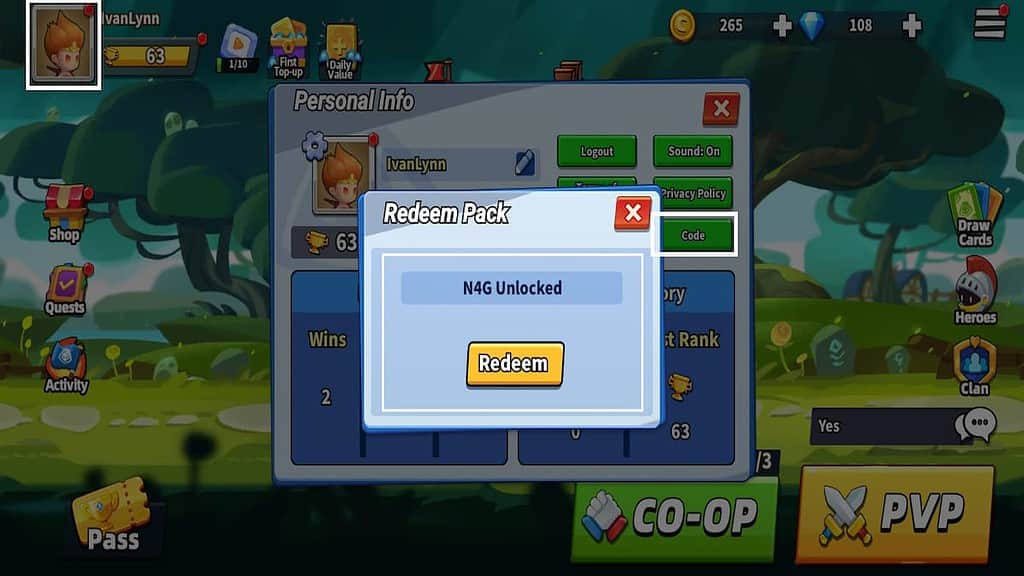 Complete the Tutorial.
Click on the profile icon located in the top left side of the screen of the Tower Brawl main screen.
Select the Code button from the list of available options.
Enter the Tower Brawl code in the text box provided.
Click the Redeem button to receive your reward.
How To Get More Tower Brawl Codes
If you're looking for the latest Tower Brawl codes, be sure to check out the game's official social media channels, like the Tower Brawl Facebook, and our guide to Tower Brawl codes, which we update regularly with new codes as they become available.
Why Does My Tower Brawl Code Say "Invalid"?
There are a few reasons why Tower Brawl codes may say Invalid Code when entered. One reason could be that the code has already expired and is no longer valid. Another reason could be that the code has been mistyped or copied incorrectly. Some codes are also region-specific, so they may not work if the player is not in the correct region.
What Is Tower Brawl?
Tower Brawl is a tower defense game developed by Super Free Games. In the game, players must defend their tower from waves of enemy units while also trying to destroy their opponent's tower. Players can use a variety of towers, units, and abilities to defeat their opponents and climb the game's leaderboards. Build an army with different units, like the summoner, warrior, priest, mages, mysterious wisp hero, and more.
This variety of heroes differs the game from usual tower defense games. The real-time battle and synergies make it a competitive game that expands on the elements of tower defense. With the right strategy and a dominating lineup, you can earn victory, silver coins, brawlers, exclusive hero rewards, and more .Master random card draws and build a team with a strong balance to succeed.
What Are Tower Brawl Codes?
Tower Brawl gift codes are a series of letters and numbers that players can enter into the game to receive free rewards. The game developers often release these codes as a way to reward players for their support or to celebrate special events. The rewards from these codes can vary and may include in-game currency, new towers, or even exclusive items. New redemption codes are released periodically, adding valid codes.
How Often Does Tower Brawl Update?
Tower Brawl is frequently updated with new content, including new towers, units, and abilities. The game's developers release updates regularly to keep the game fresh and exciting for players. Players can also expect new Tower Brawl codes to be released periodically, offering new rewards and items as milestones are reached. Make sure you are opening drop chests, participating in any arena event, and following game news to make the most of this game.
If you are looking for more game codes make sure to check out some of our other game code pages Mr Mine Codes, Roblox Peroxide Codes and SSSnaker Codes.