Here are the power differences for consoles available this 2016 holiday season.
For those wanting to purchase a new console, here is a visualization of what to expect power wise from each of the systems available this year, a handy graph comparing the different options from a purely graphical point of view. The teraflops listed for each is the best way to measure the power of each GPU and relates to what visual capabilities they will have. All systems support HDR with the exception of the original Xbox One.

(Xbox One: 1.31, Xbox One S: 1.40, PS4: 1.84, PS4 Pro: 4.20)

As a reference all systems can be had for $299.99 (USD), except the Playstation 4 Pro which will set you back $100 more. If 1 TB hard drive space is something you feel you need however, (as many do these days) PS4 pro will be only $50 more than the Xbox One S at similar HDD capacity, and yet, for gaming offers vastly more power. On the other hand if you are a videophile without a high speed internet connection and unlimited data, the Xbox One S has the advantage of being the only console coming with the new BluRay UHD drive.

Happy Shopping!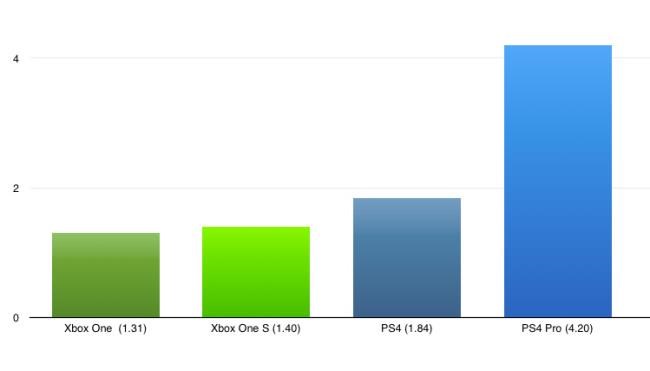 Xbox One: 1.31, Xbox One S: 1.40, PS4: 1.84, PS4 Pro: 4.20