PlayStation VR needs games.....and here they are.
By now I'm sure most of you have heard of PlayStation VR (formerly known as the much more cool Project Morpheus), bringing VR gaming exclusively to the PS4, and hopefully other VR experiences as well. While PSVR has been revealed at the Game's Developer Conference in 2014, so well over a year now. However, the device is still shrouded in mystery regarding what exact date it's going to launch, how much it's going to cost, and what games will be available.

Those 3 question has remained unanswered for as long as PSVR has been known. Price is rumored to be similar to that of a console, likely ranging between $199 - $399 (I suspect somewhere in the middle $249 - $349). And while we don't have an exact date PSVR is scheduled to launch sometime in the first half of 2016. So that just leaves us with what exactly will gamers be playing on their newly purchased PSVR in 2016.

After wondering myself, I spent time researching this question and came up with a list of nearly 50 games that are coming to PSVR or at least announced for PSVR. But I didn't stop there, what's the point of a list without footage, so I grabbed trailers and gameplay footage of each VR game I could find, so each of you can see exactly what to expect from each title. But before I post all the games, here's my personal top 10 list of PSVR games I'm looking forward to seeing more of.

1. No Man's Sky: At this point I suspect it's safe to say No Man's Sky is being developed into a PSVR game. The game has had tons of press coverage from it's reveal to several E3's and other games conferences now still with no confirmed release date. At this point the only thing that sense is that Sony is aiming to make No Man's Sky the must have PSVR launch title, and based off all the trailers and previews it will be.
https://www.youtube.com/wat...

2. Eve's Valkyrie: Eve's Valkyrie has a slight similar premise to No Man's Sky. It's all about traveling space. But where No Man's Sky is all about exploration and discovering the near endless amount of planets in the galaxy, Eve's Valkyrie is all about space warfare and I must say it looks so wonderfully good. If you've ever wanted to get into a dogfight in space in your favorite Sci-Fi games, then Eve's Valkyrie is here to serve in full VR goodness.
https://www.youtube.com/wat...

3. Dreams: Media Molecules new game is almost as mysterious as the PSVR itself, but if there's one thing this team of exclusive PlayStation developer is that they're one of the most creative in the industry. Sculpting, Crafting, Builder, Sharing, and so much more are all part of Dreams design, and turning blank canvases into video-game works of art. This game has the potential to flex the creative juices of PS4 gamers around the world.
https://www.youtube.com/wat...

4. The Hum Abductions: Konami has gone made and probably replaced Capcom as the most clueless and rage inducing of the big Japanese developers. Their first offense was canceling P.T., but thanks to the genius work of Kojima, Del Toro, and all those involved many clones have been created, and The Hum Abductions looks to potentially be the best among them. In the Hum you're not tasked with fighting off ghost and other evil spirits. Instead you must protect yourself and your family from a potential alien abduction.
https://www.youtube.com/wat...

5. Adrift: Adrift continues with the space theme, but in a completely different take. You're an astronaut living your worse dream, being trapped in space as your shuttle is pretty much destroyed. You must traverse the remains of the ship in an effort to save yourself before being lost in space. Adrift also benefits from the fact that several movies have and are currently tying into this theme with recent titles such as Gravity and The Martian, so a quick piggy back off those film could give Adrift the appeal it needs to expand the appeal of VR to a mass audience.
https://www.youtube.com/wat...

6. ARK: Survival Evolved: The trailer to this game blew my mind. A Dinosaur game that actually looks good. It was the perfect marriage of Far Cry meets the Elder Scrolls, with dinosaurs and co-op. But then reality set in, and I wanted to know how all this was going to function in VR at 60fps. Then I saw gameplay. Overall the game is nowhere as good looking as the trailer and is more similar to Rust than Far Cry and Elder Scrolls, but it still looks good and fun, it still has dinosaurs, and you can traverse this foreign sci-fi prehistoric land and tame dinosaurs to do battle with you.
The Trailer: https://www.youtube.com/wat...
Gameplay: http://www.youtube.com/watc...

7. Project Cars: Yes this game is already out, and yes it's suppose to get a VR update. We already know PC is a solid game, but this is my number 7 more for technical reasons. Project Cars doesn't run 100% smooth on PS4 currently (averaging framerates in the mid / upper 50's), so if the game is patches like it's suppose to be, what are they going to do to get performance to be VR appropriate. Will this be an example of the developing patching a VR specific mode where it drops graphical settings from High-mid, dow to mid-low to keep performance locked at 60fps. Regardless it's a good game, and a prime example of what Sony needs to do with older games. Patching these games that millions of PS4 owners already have with PSVR support will only make the purchase of the headset that much easier.
Project Cars Oculus VR: https://www.youtube.com/wat...
PC low vs Ultra graphics: http://www.youtube.com/watc...

8. RIGS: Guerrilla Cambridge's 3v3 VR mech shooter is probably the best known demo of PSVR. To put it simply it works. It looks good, and plays good, and who doesn't want to run around in mechs blasting each other. We'll see if RIGS picks up as an eSport, but regardless it should be a good fun pvp game for PSVR.
https://www.youtube.com/wat...

9. The London Heist: The other well know PSVR demo making it's rounds for over a year now. It's still questionable if this is actually a game of just a tech demo, but it's probably the best template for what a PSVR game can be. Interactivity, action, shooting, and more make The London Heist a PSVR must.
https://www.youtube.com/wat...

10. Unfortunately I only picked a solid round 10, because there were a couple other games I wanted to list here as well. But The World of Diving beat them out. The World of Diving is practically a snorkeling / scuba diving experience where you explore the ocean / seas. But unlike you'd expect it doesn't stop there. You can explore, salvage, and collect resources to help progress through the game. There's more. You can explore together with a friend(s) with multiplayer and even see real world events such as ship wrecks. There's more. You can document and photograph all of your adventure via the in-game camera. And there' one more thing. You can create and customize your character and the plant, materials, and wild-life you encounter during your exploration and share them. If it works as advertised this Zen-game could find a cult following.
https://www.youtube.com/wat...

So those are my top 10 PSVR games, and as I'm sure you've noticed by now the platform has huge potential if the games and experiences match or exceed this quality over it's lifetime. The one downside I see is that for this list of games is that there are a lot of same genres and settings. Space is a constant setting being used, so to all the developers, please pick something else unless you plan on besting the quality of every other game on this list (No Man's Sky and Eve's Online say hi). Then there's the First Person Exploration / First Person Adventure (with Puzzles) genre being abused here. I completely understand that it's only natural and probably the easiest for VR, but that why we need more devs on board who will challenge what VR can be used for. Thank you for stopping by and reading and hopefully watching all this gameplay / trailers, and I hope you're more excited for the potential of VR on whatever platform you choose to experience it on.

If you know of any VR games that I might have missed be sure to post them in the comments below along with any footage you can find of the game.

Albino Lullaby
Among the Sleep (cancelled -_-)
The Assembly
Atom Universe
Battlezone
Crystal Rift
Cult Country
Cyber Danganronpa VR
The Deep
Futuridium
The Gallery: Six Elements
Get Even
GNOG
Godling
Harmonix Music VR
Headmaster
Hyper Void
Joysound
Keep Talking and Nobody Explodes
Loading Human
Mind: Path to Talamus
Nighttime Terror 2
The Playroom VR
POLLEN
Q.U.B.E.
Shadow of the Beast
Summer Lesson
Superhypercube
Surgeon Simulator
Synthesis Universe
Trackmania Turbo
Vanguard V
VizionEck
Wayward Sky
World War Toons
Fated
Paranormal Activity VR
War Thunder

Edit:

The Kitchen: This is one of the games I missed and a big thanks to @Bitbydeath for catching it. The Kitchen is a VR Horror demo by Capcom with nothing else pretty much known about the game outside of spoiler reaction videos. Allegedly it's Capcom's VR version of P.T. so be on the look out for The Kitchen. Here are some non-spoiler reaction videos....ENJOY.
https://www.youtube.com/wat...
https://www.youtube.com/wat...
https://www.youtube.com/wat...

Omega Agent: It was pointed out that the link in the comments to this game is wrong. The linked game is actually Omega Quintet a Japanese Idol game. Here is the true link to Omega Agent, a Jet Pack shooting game....this makes me want a VR Jumping Flash :D. Thanks @G20WLY
https://www.youtube.com/wat...

Sony also recently stated there are 2 more PSVR games in development for the headset. These titles haven't been released yet, but I'll be sure to come back and add them when they are.

Newly announced games:

Gran Turismo Sport
https://www.youtube.com/wat...
Robinson The Journey
https://www.youtube.com/wat...
No Man's Sky
Eve's Valkyrie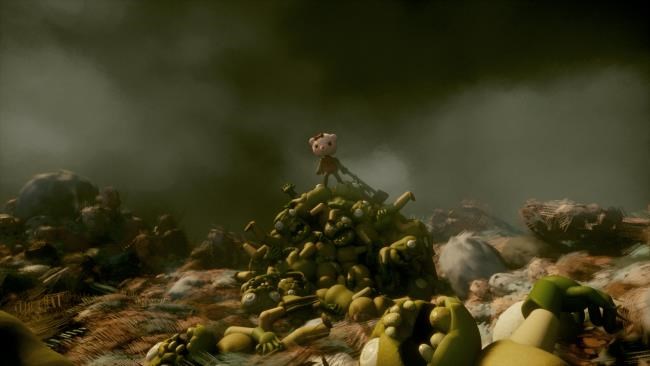 Dreams
The Hum: Abductions
Adrift