3 Platform Future: Xbox + PC + Steam = WIN
http://static.digit.in/fcke...

Welcome to part two of the 3 platform future series. This is a 3 part blog, on what I personally hope will happen to the current game industry removing the need for to purchase 6 different platforms to have access to all games, and instead have a simple 3 platform medium. If you missed the first part, it covered Nintendo and moving their business into a one handheld/console hybrid future aka my take on the Nintendo Fusion that I dubbed N-Fusion.

http://n4g.com/blogs/detail...

The story of the little Xbox that could.
Today is Microsoft's turn. Microsoft came into the video game industry with the original Xbox. It was a bulky, but solid gaming console for it's time, but ultimately only saw minor success in it's homeland. The Xbox 360 defied all odds (mainly due to Sony's missteps with the PlayStation 3), and more than tripled the sales of the original Xbox, cementing the Xbox brand as a true Core gaming console. However, the tables have turned and now the Xbox One has started this console generation in the same place Sony's previous console started, and while the Xbox brand is putting up an effort to overcome it's shortcomings and media backlash, it's still a daily struggle to regain the brand's footing. Is this the end for Xbox?

Change is a good thing.
http://unitystampco.com/wp/...
Hopefully not; however, I do hope this is the end of Xbox and Microsoft so to speak. Regardless of their current position Microsoft has done a great job turning the Xbox brand into a common household name; however, it's time for both brands to part ways. The Xbox brand should continue on, just not under direct control of Microsoft. Microsoft doesn't have the gaming knowledge or pull (outside of finances) to carry the Xbox brand any further than where the Xbox 360 took it. Microsoft will and should still be a major partner and funder of the Xbox brand by keeping the brand under it's corporate umbrella, but by allowing Xbox to be it's own separate division it can have much more creative control over the product(s) as well as develop new ownership, new partnerships, and thrive.

When you're directly under a corporation it's like being a child, you have to ask mommy / daddy for any and everything you want. Well if Xbox is a spin-off from under MS, they can still get funding and financing from MS (likely a bit less than as if directly owned), but at the same time make partnerships or deals with other companies and publishers like Valve, EA, Capcom, etc... without having to have daddy (MS) review, process, and approve everything, and that's just covering the business side of things.

Creatively speaking it means, more investments can be made in new IP, more smaller studios can be bought and crafted into 1st party giants over the years, and overall just more creative freedom if the CEO allows it, and if it's Phil Spencer then that's likely the case.

But the most important aspect of this freedom would allow Xbox to where I would like to see the brand head to is PC gaming partnerships. They need to let the Xbox brand go back to it's roots, PC gaming and form multiple partnerships with the PC industries major players (Intel / NVIDIA / AMD / etc...). I know some of you Xbox fans are screaming NOOOOO, but you don't know what you're missing out on if you don't have a gaming PC. And I know some of you PC fans are screaming NOOOOO, but hear me out first.

Xbox already has some big partnerships with Major League Gaming, EA Games (hence EA access and exclusives), the NFL, Cable Providers, and more. Well it's time to go to PC and find more, and their biggest potential partner Valve. Valve wanted to make a Steambox a PC that has the form factor and ease of use as a console. Well Xbox is already everything the Steambox wants to be, and more importantly has the fanbase and following to make it a success. This is a partnership that'll be good for the Xbox brand, Valve, Microsoft, and gamers (both PC and console).

Introducing Xbox-Steam (lol).
The dual OS feature of the XBO can be put to full use for gaming with the Xbox-Steam. They can either run Windows OS as it's main OS and Steam as the secondary (highly unlikely, as that means taking up resources to run 2 full operating systems). Or they could simply run a Xbox OS (windows kernerl), and allow gamers to buy / install a full Windows OS allowing you to turn your Xbox-Steam into a full function gaming PC. This is the more likely option as they can sell the full Windows update and install on the XBL store (making sure they get their money), and it gives both Xbox and PC gamers the best of both worlds, allowing Xbox gamers to keep the interface, console, and system they're used to and budget PC gamers an affordable console/gaming PC that can still access their Steam library and has good valued and good hardware.

The other partnerships come into play with Twitch streaming MLG competition exclusively on the Xbox-Steam, NFL license, Cable Access (same as XBO), EA Access, Uplay Access (Ubisoft version of EA Access, as well as enticing other companies to get on board), and more making it a service based box as well that doesn't impede on the PConsoles main function, gaming.

Now that the software is out of the way the hardware is all that's left to tackle. The Xbox-Steam is the same Xbox console gamers are used to, but taking a lesson from Steam Machines with its innards being fundamentally contemporary PC parts. Here's where it benefits PC gaming as a whole. Since the Xbox-Steam would still be standardized hardware it would be the baseline (recommended specs) for PC development. All PC games would likely target Xbox-Steam as the recommended specs early in the generation, and as the generation nears it's end, the same specs would soon become the minimum. It makes those willing to invest in $1,000 gaming PCs would have a much better base line for their PC games to run from getting the best performance out of their rigs that they can.

The Xbox-Steam should simply use off the shelf parts, with tweaks and engineering changes here and there to offer the console better performance overall than the off-shelf product would provide. Off the shelf PC hardware, brings several benefits as well too, since it allows ports between Xbox-Steam and PC platforms to be significantly easier, and practically a drag and drop process between the two. With the Xbox-Steam being a fixed platform with dedicated hardware it would still have all the benefits of a console such as extremely low level API allowing the hardware to perform pass its PC counterpart capabilities. But one final possibly is the capability to upgrade core components, specifically the RAM and GPU for those who simply want to use the Xbox-Steam as a gaming PC, and forget its console component that way they can get more milage out of the Xbox-Steam strictly as a gaming PC (upgrading voids your warranty, and dedicated console games don't receive any of the benefits from upgrading your GPU since they're programed for a specific hardware standard, and it might crash those console games, so upgrade at your own risk).

The hardware would receive a refresh every 6 - 8 years, bringing improved specs and performance with the predecessor being subjugated to low end PC gaming, and allowing PC hardware 2 - 3 full generation jumps for much better performance. A price range of $400 - $500 will be established and consistent with each hardware revision, with $400 being more consumer friendly, and unfortunately for team Xbox the requirement for them. The focus of the hardware should always be decent CPU, best available GPU for $400 launch price. The CPU needs to be decent enough to run demanding games, and dual OS without being a bottleneck to the system and also being capable of functioning as a full on gaming PC since it would be an aspect of the Xbox-Steam that can't be upgraded for those looking for a PC only experience. The GPU simply needs to be the best it can be within the budget for competition purposes with Sony and their PlayStation brand, so there's never an issue of the PlayStation being more powerful and cost the same or less again.

So what do you think?
So overall the Xbox-Steam brings together console gaming and PC gaming like Valve hoped the Steam Machines would do. It's one platform that has the best of both worlds, with full PC architecture, making it easy for developers. An Xbox OS for console only gamers, with the possibility of downloading a full Windows OS and Steam to also run on the Xbox-Steam for those PC gamers who are looking for a great budget PC. Xbox gamers still get to keep their plug and play console, game with a Xbox controller on their HDTV, play with their Xbox friends, and have access to all your favorite Xbox games, and budget PC gamers get a great $400 build, that has the performance of a $500 - $600 gaming PC.

Once again I've tried to come up with downsides to this new strategy, but I really don't see any. As I said Xbox fans aren't losing anything, they're still getting the same great console they love. And on the flip side PC gamers now have a baseline standard for PC developers to code for. If your PC isn't up to par then you can simply buy an Xbox-Steam every 6 years, and upgrade parts when if necessary. The only negative I can come up with is that more Xbox exclusives might make their way to PC either at launch of a year or more later, but that's not really an issue considering the Xbox brand has pretty much guaranteed itself a solid 60m following around the globe thanks to the success of the Xbox 360 (40m NA, 15m EU, 5m RoW), and in the end software sells benefit the company as a whole. So at worse the Xbox brand stays at 60m units sold and overtime drops down even lower, but at the same time those former Xbox gamers become PC gamers and software sales jump. However, it's very unlikely to happen, especially for those who want their Xbox exclusive Day 1.

So once again let me know what you think in the comments. Should Xbox split from Microsoft, and simply partner with Microsoft and Valve, creating a PConsole. Or should we continue alienating the space with 6 different platforms. You decide.
Ooooo Xboxy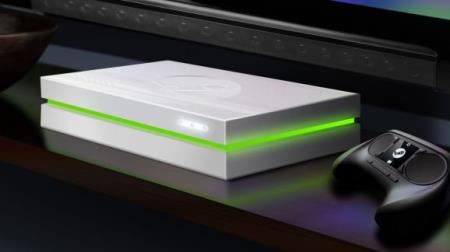 Ooooo also Xboxy
Halo 5 1080p @ 60fps on Xbox-Steam...Quite Possible
Gears of War 4 1080p @ 60fps on Xbox-Steam....Again quite possible